Protecting Our Night Skies from Light Pollution
There are about 60 members of the Cochise County Association of Astronomical Observatories.  In addition, many HAC members moved here because of the excellent night skies.  We moved to this area and built homes and astronomical observatories.  But many people who are not astronomers enjoying looking at our magnificent night sky.  While many astronomers care deeply about preservation of our night skies, the issue of light pollution reaches far beyond that.
Light pollution is caused by aiming lights into the sky, blinding people with glare, or by leaving lights on when and where they are not needed.   When we allow bad lighting at night, we waste an enormous amount of energy and endanger our own health and safety as well as that of many animals.  Fortunately, good lighting is easy, and our area has excellent outdoor lighting codes to help us do the right thing.
If you have  county neighbor with a really obtrusive and invasive light, Have them check our the Cochise County Light Pollution Code.  It was recently updated and can point the person in the right direction.   There is also a link to file code violations in the county.  For more information,  see this link:
https://www.cochise.az.gov/planning-and-zoning/light-pollution
If you live within the City of Sierra Vista, the outdoor lighting code was updated in 2015.  See sections 151.11 to see our city's outdoor lighting code:
http://www.sierravistaaz.gov/wp-content/uploads/2016/06/151.11.pdf
and  section 151.10 for sign regulations:
http://www.sierravistaaz.gov/wp-content/uploads/2016/06/151.10.pdf
If you need more help with light pollution, be sure to visit the website of the International Dark-Sky Association.  Or even better, join the IDA. They lead the charge in protecting the nighttime environment.  They have published dozens of  IDA Practical Guides to help us.  For more information, see:  www.darksky.org
Crime
Many of us are afraid for the dark, and bright lights at night can give us a false sense of security. What we need is better situational awareness coupled with better light designs. Most crime actually occurs during the day, and at night, lighting by itself does not insure safety.  A recent US Department of Justice report to Congress concluded, "We can have little confidence that lighting prevents crime, particularly since we do not know if offenders use lighting to their advantage….  In short, the effectiveness of lighting is unknown."  When we fear the night, do bright lights really make s safer. Do criminals need light to see to commit crime?  Could they too be afraid of the dark?
Safety
Bright lights cause glare that decreases visibility.  When lights shine in our eyes we can't see much except the light source.  We can't see the steps or handrails to a doorway.  We can't see the bad guy behind the light.  And you know what it's like to have drivers shine their high beams into your eyes.  It takes a while to recover your night vision.
Human Health
For millions of years, life on earth evolved with a day and night.  Now, we are turning the night into day with unintended consequences.  Ongoing research indicates there may be serious impacts on human health from overly bright lights. When we sleep with lights around us or invading our bedroom window, we suffer something called melatonin suppression.   This adversely affects our circadian rhythm – our sleep pattern – as well as our immune system.  Medical doctors are also studying the link between cancer and melatonin suppression from lights at night.
Wild Life
Light pollution also adversely impacts many forms of nocturnal wildlife.  Florida's sea turtles have been facing a major threat from bright lights. Endangered sea turtles emerge from the surf to deposit eggs in sand nests and later, tiny hatchlings struggle from their nests to return to the ocean.  The turtles instinctively look for moon light reflecting off the ocean to guide them to the water, but mistake manmade lights for moon light and die. Similarly, many species of birds, especially small insect-eaters, migrate at night. Guided in part by the starlight of constellations, they are attracted to lights shining from skyscrapers, broadcast towers, lighthouses, monuments and other tall structures. Some birds either flutter about until they drop from exhaustion, or actually hit the object and die.
Property Rights
Light trespass is another serious problem.  Light at night can be as offensive as neighbors driving across your yard or parking on your property.  When a person aims bright floodlights at their neighbor's yard, they invade their property and destroy a good night's sleep as well as their ability to see the sky.
Monetary Investments
In Cochise County, astronomy is a major investment.  By our estimate, there are over 50 astronomical observatories here.  In addition, there are hundreds of millions of dollars in professional astronomical observatories near Cochise County. Even though we have good lighting codes in place, there are still adverse impacts on both professional and amateur research.  We need everyone's help to protect this research. Your local astronomers may be the ones to spot an asteroid headed for Earth!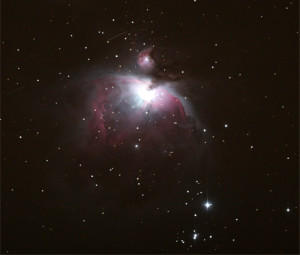 Here's a photo of the Great Orion Nebula taken a few days ago by the author.
Photos like these are possible only from protected areas, like Cochise County.
Good Lighting is Easy
Our current city and county lighting codes are designed to help achieve the goals of good lighting.  But in a nutshell, the key to high quality nighttime lighting is to follow a few simple rules.  First, insure that glare is minimized. Most glare comes from unshielded fixtures and bad lighting design. You should never see a light bulb.  Shine the light down and only when and where it is truly needed.  Don't light up trees or walls.  Next, use time controls to insure that light is on when needed, and off when it is not.  Lights should only be on when there is a person in the area.  Motion activated lights are available, too.   As an added bonus, your pocket book will benefit if you use only energy efficient light sources.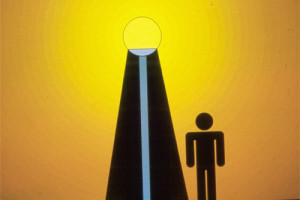 Here's an illustration showing light going everywhere except where it's needed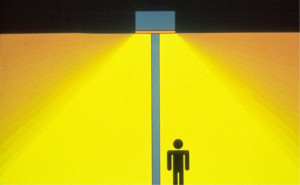 A better way to light is to aim light down, and only when it's needed.
Images courtesy International Dark-Sky Association, Inc. 
Preserving Our Heritage
Light in the sky is called sky glow.  It's a bright nighttime dome over most cities.  It destroys our view of the universe.  Go outside on a cloudless night.  Here you can still see the color, shape and density of our own galaxy, the Milky Way.  This is a privilege very few Americans have.  It is priceless.  All across the country and around the world, people are losing touch with the night.  This means our children and generations to come are in danger of losing their God given right to experience the grandeur of the universe.  That would be a tragedy!  Let's not let that happen in Cochise County or Sierra Vista.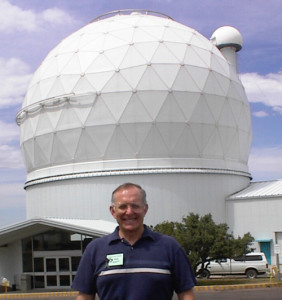 About the author:  Lt Col Bob Gent is a retired USAF Space Systems Officer, and he is the past president of the Astronomical League, an educational federation of 300 astronomical societies and 15,000 members.  He is also the past president of the board of the International Dark-Sky Association.  IDA has thousands of members from over 70 countries.  He and his wife Terrie built and operate the Cochise Skies (Astronomical) Observatory in Mountain Shadows in Sierra Vista, Arizona.
Photo at left is Bob visiting the McDonald Observatory in Texas.
0
true
a:6:{s:6:"layout";s:7:"default";s:10:"page_title";b:1;s:15:"masthead_margin";b:1;s:13:"footer_margin";b:1;s:13:"hide_masthead";b:0;s:19:"hide_footer_widgets";b:0;}